Internships
Saddle Lake offers an internship program where students will become immersed in the horse industry. Interns will learn the ins-and-outs of breeding, mare and foal care, horse care, veterinary care, farrier work, horse training, showing, etc. On site housing is available for interns that are out of town.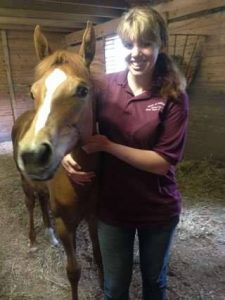 Helen Garber
Interned Summer 2014
Student of Veterinary Medicine & Surgery at The Royal (Dick) School of Veterinary Studies in Edinburgh, Scotland
Completed her horse husbandry hours at Saddle Lake
  TESTIMONIAL: I have been learning a lot about the horse this year in terms of anatomy & physiology, clinical applications come in fourth year.  I have animal handling & written exams after spring break so I'm sure that my time at SLEC will help me in terms of horse husbandry. I learned so much & was able to apply what I learned in the classroom.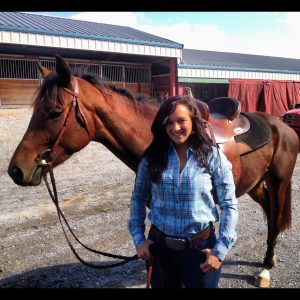 Donna Rutland
TESTIMONIAL: My summer internship at Saddle Lake was may more than I ever could have expected. Going in I was ready for a summer filled with horses, and more horses but, what Missy Jo offers is so much more than that. Of course it is a lot about the horses; learning their nutrition, feed schedules, wound and health care, basic horsemanship, exercise regiments, breeding, and of course, cleaning. But, you also learn all about excellent customer service. You get to build long-lasting relationships with some of the best equine names out there. You also get a chance to challenge yourself and put some of even your best riding to the test: particularly on really spunky two year olds. Having the opportunity to have a hand in training the younger more green horses and later getting to see them excel is one of the most rewarding parts of this experience. At the end of the summer when you are packing up to leave, you get to look at all that you have accomplished and take away more than a summer of horses, you get life lessons, a barn family that will never forget you, and skills that you can use going forward regardless of where your future career may take you.