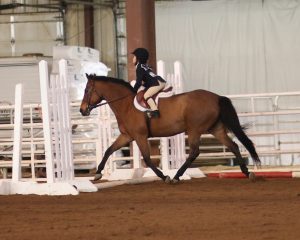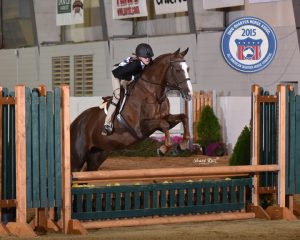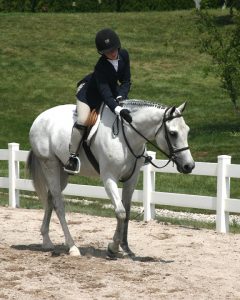 Lesson Program
Saddle Lake is dedicated to proving the best possible care for our horses, teaching our students the fundamentals of riding, whether beginner or advance, and providing a fun and safe environment in which to learn.  We want to help our students develop a strong sense of self-esteem and confidence, with horse and in their everyday lives.  Our instructors strive to be outstanding role models. Lessons are 45 minutes long and offered year round.  Our weekly lesson schedule offers much opportunity allowing our customers to pick time slots that work around their busy lives.  We offer lessons Mondays –Fridays 9am-7pm, and Saturdays 9am-3pm.
Beginner Lessons are a great way to introduce you or your child to horses in a fun, safe, and educational manner.  We offer lesson horses with experience and training.  This level horse gives the beginner rider the opportunity to ride a horse that can teach the rider.  These horses are selected due to their willingness to help the rider.  Our instructors are encouraging yet focused on moving the rider's ability forward.  This is obtained by making sure the rider is first feels safe, then challenged.  Beginner lessons are taught by assistant trainers and with lesson plans and horse selection overseen by Missy Jo.
Intermediate Lessons build from lessons learned with beginner lessons.  Lesson horses in this level have experience and training.  Intermediate level lesson horses are selected for this level because they allow the rider to maneuver them easily when asked correctly.  This level rider learns to control their own body as they learn to maneuver the horse under them.  Intermediate lessons are taught by assistant trainers with the lesson plans and horse selection overseen by Missy Jo.
Advanced Hunter/Equitation Lessons offered.  Group lessons at this level are grouped by jump heights first and age of rider second.  We offer a group of nice accomplished show horses for this level to the greener horse depending on the skill of the rider.  Of course riders are welcome to use their own mounts for lessons.  Lessons taught by Missy Jo and covered by Sr Assistant trainer when instructor is out of town showing.
Out of town/state/county customers are welcome to haul in for several days of training at a time.  One to two lessons a day can be scheduled with length of lessons adjustable. Hotels near the Kentucky location are available 7.5 miles away in Wilder, Kentucky and one trailer hook up is available. Hotels near the Ohio location are approximately 20 minutes away. If flying, CVG is within 30 minutes drive from the Kentucky farm and a 1 hour drive from the Ohio farm. Please let office know when you are scheduling how many stalls you will need.