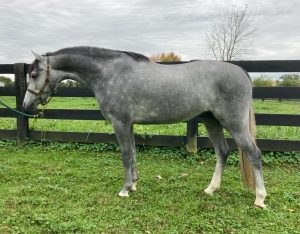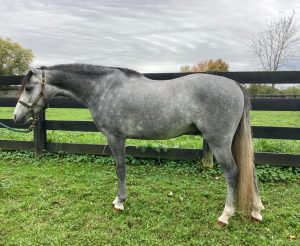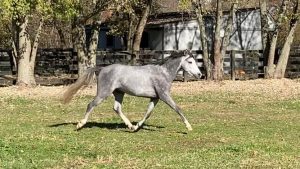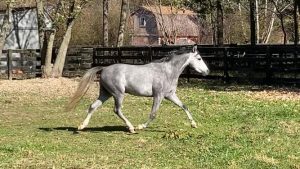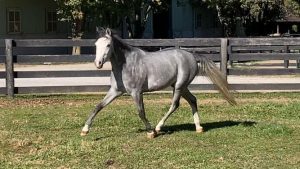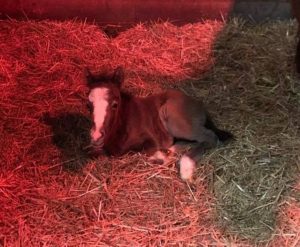 ROYAL MASTERPIECE
"Davinci"
2019 Grey Welsh Pony Gelding
*Telynau Masterpiece x Evans Morcant
Bred and Owned by Missy Jo and Mark
"Davinci" is an exceptional small pony prospect! He is very handsome and is bred very well on both sides with stunning movement and beautiful conformation. He is lifetime USEF/USHJA registered, microchipped, and has full welsh papers with WPCSA. Cantering small courses with lead changes. 
Grey 13h Welsh B Stallion
Laithehill Allegro x Telynau Miss Royal
(dam is a full sister to Leading USEF Pony Sire *Telynau Royal Charter)
Imported from the Famous Telynau Farm in Wales. This well bred Stallion comes from two Royal Welsh Top Ribbon Winners. Very fancy, with excellent conformation and beautiful graceful movement.
Sire of 2016 Pony Finals Large Green VPBA Pony Champion: Ideal One
Sire of 2015 VPBA Yearling Futurity Ribbon Winners: Enough Said & Ideal Outcome
Sire of 2011 Best Young Pony At Devon: Ideal One
*Mortons Celebrity x Lanes Cherry Jubilee
Aurora's dam, Lane's Cherry Jubilee has produced so many outstanding foals for us through the years. Aurora is a full sister to Pony Final's winner, Evans Cadfael. She is a half sister on her dam's side to the well know Devon Champion Producer and Get Of Sire Winner, Evans Circe Du Drallion.
Aurora's sire, Morton's The Celebrity came from the well known Morton's Farm in Canada. His sire, *Stockham Commander, has been USEF Top Producer Multiple times. Commander has also won numerous times in halter. Celebrity's dam, *Cennen Sonatina, is well known in the Welsh and Sport Pony world. She is a Multiple Supreme Champion and the producer of many well known show ponies. Morton's Star Command is Celebrity's full brother. Celebrity was a halter champion in Canada. Celebrity is now a winning children's pony in the Pacific Northwest.